Conflicts of interest in research
Conflicts of interest in research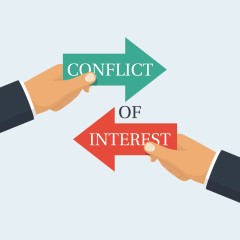 A conflict of interest (COI) arises in situations in which financial or other personal considerations have the potential to compromise or bias professional judgment and objectivity. Conflicts of interest are not unusual in a modern academic setting but must be addressed in order to provide transparency and protect research integrity. The COI in Research Program administers activities related to reporting, assessing, and managing financial and non-financial interests for the university research enterprise.
RAMS-AIRS
The Activity and Interest Reporting System (AIRS) is an electronic Research Administration Management System (RAMS) for the reporting of interests pertaining to research. 'COI Investigators', designated by the PI as having responsibility and independence in the design, conduct, and reporting of research, report interests in their Financial Interest Report (FIR).
The AIRS opens for the annual FIR update on May 10th.
Committee members
The Conflict of Interest in Research Committee (COIC) is a standing committee of the university, composed of faculty, administrative personnel, and ex-officio members, convened under the authority of the Vice President for Research and Innovation by their designee. The COIC is charged to evaluate investigator reports of research-related financial interests and to determine an appropriate resolution, including the development of a management strategy, as appropriate. Committee members are required to adhere to applicable rules of privacy and confidentiality pertaining to conflict of interest review. The COIC members are:
Gretchen Brophy, Ph.D. - School of Pharmacy, Department of Pharmacotherapy & Outcomes Science

Daniel C. Bullard, Ph.D. - Dean, The Graduate School

Alan Dow, M.D., MSHA - Department of Internal Medicine, Division of General Internal Medicine; Center for Interprofessional Education and Collaborative Care
Robert Klenke, Ph.D. - College of Engineering, Department of Electrical and Computer Engineering
Joyce Lloyd, Ph.D. - School of Medicine, Department of Human and Molecular Genetics
Monika Markowitz, Ph.D. - Chair; Director, Office of Research Integrity and Ethics
Richard Sterling, M.D. - Department of Internal Medicine, Division of Gastroenterology, Hepatology, and Nutrition
Regulations
Federal regulations
State law
VCU resources
Other resources
News and updates
Notice of approved policy: Institutional conflicts of interest in research
An institutional conflict of interest (ICOI) in research is a situation in which the financial interests of the university or its covered members might reasonably appear to influence or bias institutional activities involving research. Such influence or bias, or appearance of either, can be exerted by individuals among VCU leadership or emanate through university entities and holdings. This policy requires that financial interests of university entities and covered members are reported and that conflicting interests are evaluated and appropriately resolved or managed.
Final Rule published in the Federal Register on August 25, 2011 regarding financial conflicts of interest in research
The rule (Responsibility of Applicants for Promoting Objectivity in Research for which Public Health Service Funding is Sought) replaces regulations that have been in place since 1995. The new regulations have a major impact on the identification, reporting, and management of financial conflicts, especially for individuals who are involved in research sponsored by the National Institutes of Health (NIH) and other agencies of the Public Health Service. The compliance date for the PHS Final Rule was August 24, 2012. The VCU Conflicts of interest in research policy addresses the Final Rule regulations in addition to other conflict of interest directives.
Resources