Grant Academy
Grant Academy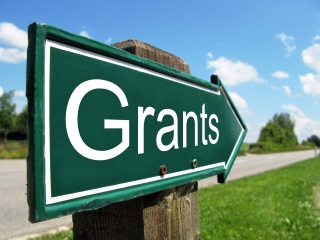 Grant Academy is a grant writing professional development program providing training and support for a select cohort of faculty investigators working with senior faculty, research development experts, and research administrators, with the goal of submitting a successful funding proposal.
Grant Academy is open to all faculty, in any discipline, from across the university. This multifaceted training will offer assistance to a selected cohort of faculty who: (1) currently have a concrete research project idea, (2) are ready to develop a proposal and (3) have identified an opportunity due in the next 18 months that will have a transformative impact on their career if awarded. Faculty participants will receive step-by-step guidance on proposal strategy, development and project management; scaffolded proposal preparation with intensive individual support from research development staff, and three-tiered review, including cohort peer partner feedback, internal VCU review by a participant-identified senior faculty mentor; and access to an external review committee before submission.
Cohort workshops will include topics such as how to communicate your research project effectively, working with the Division of Sponsored Programs, Research Integrity and Ethics, and the offices of Export Control and Compliance and Team Science, and the VCU Libraries, as well as the Office of Research Subjects Protections and the Animal Care and Use Program (depending on the topic of your research) and others. In addition, there will be sessions on individual funding agency requirements and tips for submission, requirements regarding clinical trials, and how to strategize for future funding.
Grant Academy is offered twice per year. Each cohort will consist of 12-15 faculty participants. Applicants need to be available to consistently attend all cohort workshop sessions.
Applications for the Fall 2021 Grant Academy will be due at the beginning of the fall semester. Stay tuned for more details!
Details
The Grant Academy offers training and support that, when combined over a period of time, aims to steadily build understanding and skills in competitive grant writing.
Cohort meetings and workshops: Content workshops will focus on aspects of proposal development, including step-by-step guidance on developing competitive extramural proposals, research and project design, persuasive communication and writing, grant submission, and building and maintaining relationships with the funder. Additional topics will focus on compliance and clinical trials.
Intensive proposal review: All Grant Academy faculty participants will have their proposals reviewed by an external panel/individual reviewers before submission.
Individualized support and technical assistance: Each cohort member receives one-on-one assistance with strategy, content and copyediting from our research development staff until the proposal is submitted and beyond.
Selection and expectations
To participate in Grant Academy, faculty must meet the eligibility criteria below:
Possess a concrete research project idea, with identified research questions

Be positioned to submit a full grant proposal in the next 18 months

, including the identification of a funding opportunity

Have identified a funding opportunity that will have a transformative impact on their career if awarded (e.g. NIH R- or K-series grant, NSF CAREER or other NSF grant, NEH grant, other federal grant, or significant foundation grant)

Identify a VCU senior faculty mentor
Grant Academy faculty participation in cohort workshops, individual meetings with the research development team, as well as out-of-class proposal preparation is estimated at 10 hours per month (for 11 months). Therefore, all applicants will have to secure a departmental endorsement. This endorsement assures that the investigator will receive the necessary time to participate.
Grant Academy cohort members will be expected to:
Participate in all Grant Academy cohort workshops and sessions

Complete all assignments and meet milestones

Actively engage with cohort peers, including providing oral and written proposal feedback to peer partners

Complete internal review with senior faculty mentor

Submit proposal for external review

Submit a completed proposal to their identified funding opportunity in the next 18 months

Provide feedback for the Grant Academy program evaluation
Application deadline
Grant Academy application link
Applications for the Fall 2021 Grant Academy will be due early in the fall semester. Stay tuned for more details!
The application consists of five brief parts:
Faculty applicant information

Faculty research and proposed project information

Proposal submission information (including identified funder, title of funding opportunity and any collaborators)

Senior faculty mentor information

Required support documents (upload all documents as a single PDF file labeled "lastname_YYYY-SemesterApplied" (i.e., Smith_2021-Fall):

Full faculty applicant CV –

The application must include the proposed faculty participant's full CV (do not upload agency biosketch).

One-page research project abstract –

The application must include a one-page abstract of your proposed research project (Arial, 11-point font, single-spaced).

Co-PI, Co-I, and/or collaborating partner CV(s), if appropriate –

The application must include full CV for any proposed faculty collaborators (do not upload agency biosketches).

Full senior faculty mentor CV –

The application must include a full CV for the participant's senior faculty mentor (do not upload agency biosketch).

Grant Academy Attestations and Endorsements Form –

A form outlining the terms and conditions of participation in the Grant Academy must be signed by both the proposed faculty participant and the designated faculty mentor/reviewer. It must also be endorsed by the department, by way of the department chair/designee's signature. Once all signatures are secured, the document must be scanned and saved as a PDF and included in your full application package PDF.
Contact us
Melissa Throckmorton
Director of research development and strategic projects
throckmortms@vcu.edu
(804) 827-1443

Joshua Hahn
Senior grant development specialist
hahnj2@vcu.edu
(804) 827-1524